Dr. Snehal Shah – your Langley dentist offers crowns & bridges support for your compromised teeth.
Dental Bridges in Langley, BC
Do you have gaps in your mouth from missing teeth that hinder your chewing, your speech ability, or affect the overall appearance of your smile?
Other than poor aesthetics, missing teeth can create dental problems in the long run, like cause your teeth to shift, developing a bad bite. Treatment then, could take longer and would be more costly. Dental Bridges, however, can prevent some of the problems caused by missing teeth. The procedure includes the re-contouring and reshaping of the teeth on either side of the gap so that they can hold the bridge restoration securely in place. A bridge is usually a set of 3 or more dental crowns attached to each other, custom-made to replace the number of teeth you missing. These strong and durable restorations will function, look, and feel just like your natural teeth.
Dental Crowns in Langley, BC
Crowns, also called dental caps, are used to provide structural support for teeth that have been compromised. Teeth with fractures or substantial loss of structure due to trauma or cavities may need a crown to enhance the long term survival of the tooth. Some indications for a tooth in need of a crown restoration are:
Loss of a large amount of tooth structure due to cavities.
Severe wear of teeth due to grinding or clenching habits.
Restoring the functional and aesthetic contours of teeth.
Other than the aesthetic and restorative benefits of crowns, you can also enjoy functional advantages such as durability, strength, and longevity. Your dental crown is made to match the color of your natural teeth so that it is indistinguishable from the rest of your teeth.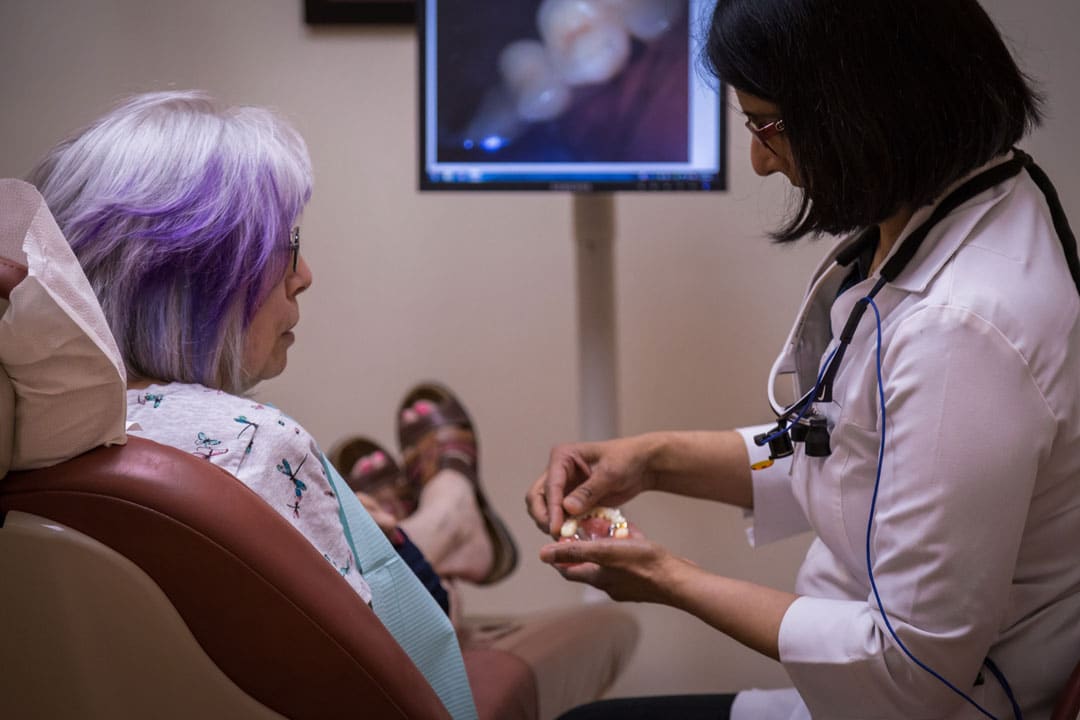 If you suffer from one or more missing teeth, call our Langley dental office at 604.539.0211 or use the online form below to book an appointment with our experienced and professional dentist, Dr. Snehal Shah.