Covid-19 Safety Protocols
At Jericho Dental Centre, we have implemented enhanced infection control protocols above and beyond the strict policies we already have in place. We have created new patient flows to follow physical distancing guidelines such as a protective barrier at the front desk to keep all of our patients and staff safe.
The safety of our patients and staff remains our top priority
Jericho Dental Centre's common goal is a safe and healthy appointment.
Jericho Dental Centre is committed to the health and safety of our patients, staffs and guests. We strictly follow infection control protocols set by BC Dental Association and College.
We are going beyond disinfecting surfaces and sterilizing instruments that we use and actually cleaning the air that we breathe! We have installed Advanced Medical Grade Air Purifiers by Surgically Clean Air.
Surgically Clean Air's JADE Air Purifier (SCA5000C) is one of the World's Most Advanced Standalone Medical Grade Air Purifiers.
It has six (6) stage filtration systems that includes High efficiency HEPA-Rx filer, Activated Carbon Filter, Germicidal UV-C+ Light and more.
It captures dust particles, pollen, volatile organic chemicals (VOCs), gases, mold, allergens, viruses, Bacteria, Fungus, odors (like formaldehyde and smoke), bio-aerosols, and many other pollutants that are found in the inside air in workplaces.
Ultraviolet Light (UV-C light) inactivates airborne pathogens and microorganisms to disinfect the air that is being filtered.
It has negative ion chamber that makes indoor feel more pure, clean and energized to help combat fatigue.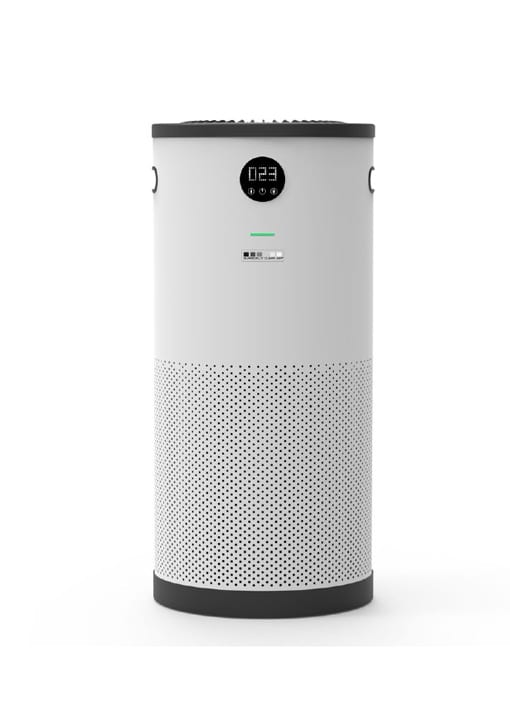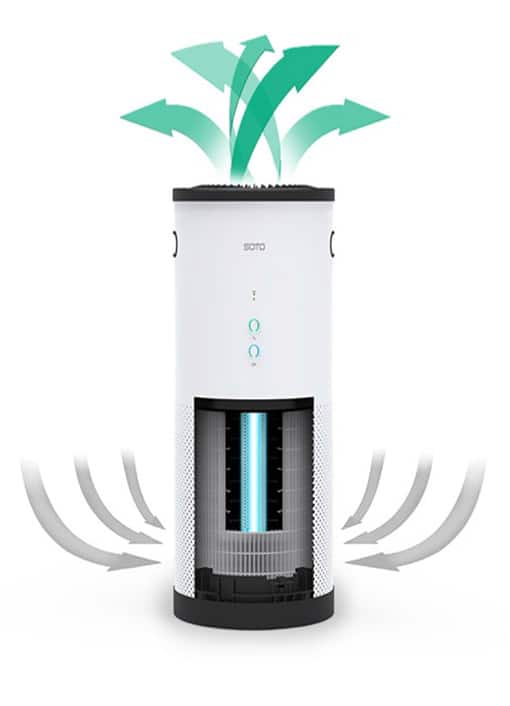 We have installed 3 of these air purifying units to provide clean air continuously throughout our office.
Microbial air pollution is a health issue and this is where technology helps makes us a safer practice. Air purification systems can play a role in significantly reducing transmittable bio-aerosols.
Here are the safety protocols that we have implemented to protect your health:
We will ask you your chief concern for your appointment, ask screening questions for COVID-19, and make any updates to your medical health history.
Upon arrival for your appointment please wait in your car
Call or text the office at 604-539-0211 letting us know you have arrived.
We will let you know when we are ready for you to enter the office.
All patients need to wear a face-covering or mask when entering the office.
Once in the office you will be directed to the hand sanitizing station, be screened for COVID-19 and your temperature will be taken with a touch-free thermometer.
You then will receive a patient consent form.
Patients are to come alone to their appointments unless a parent/guardian or support worker is needed to be present, we ask that only one guardian come
After all forms and screening is done, you will be directed to your assigned operatory.
Before the procedure, you will be given a food-grade hydrogen peroxide rinse. You will be removing your face mask/covering and holding it while doing the rinse for 1 minute. After the 1 minute, you will be instructed where to dispose of it and you will put your face mask/covering back on. Dr. Shah will complete your appointment.
Hands will need to be sanitized before leaving the operatory. You may then head to the front desk to complete any payment or exit forms that are required.
Thank you so much for your cooperation, and we look forward to taking care of your dental needs very soon!
At our reception desks, we've installed plexiglass barriers and placed 'Stand Here' markers on the ground away from the desk to encourage physical distancing.
In our waiting rooms, we have left a minimum number of chairs for seating and ensure they are placed 2 metres (6 feet) apart. Our staff members will wipe down all surfaces including door handles with a disinfectant cleaner.
STAFF/ VISITORS MONITORING

In addition to these new protocols, our staff will continuously self-monitor for any Covid related symptoms they may experience and will quarantine for the mandatory 14 days in the event they are ill.
Visitors like Patients' guardians, sales reps, lab technicians are also screened for Covid and temperatures are taken and recorded in the visitor logs with their phone numbers.
To book an appointment with our dental office, call us at 604.539.0211 or use the online form below.